Site home page
(news and notices)
Get alerts when Linktionary is updated
Book updates and addendums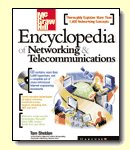 Get info about the Encyclopedia of Networking and Telecommunicatons, 3rd edition (2001)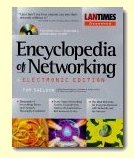 Download the electronic version of the Encyclopedia of Networking, 2nd edition (1996). It's free!
Contribute to this site
Electronic licensing info
Electronic Mail
Related Entries Web Links New/Updated Information
Note: Many topics at this site are reduced versions of the text in "The Encyclopedia of Networking and Telecommunications." Search results will not be as extensive as a search of the book's CD-ROM.
Electronic mail (e-mail) is probably the most common application used on enterprise networks and the Internet. Some enterprise networks were built with e-mail in mind. Messaging has many obvious benefits. If a person isn't available to pick up a message immediately, the message is held in an e-mail box until it can be picked up. Files can be exchanged by attaching them to messages. Today, collaborative applications are built upon electronic messaging systems and messaging has become an important part of network applications.
Chat and instant messaging are forms of synchronous communications. Like a voice telephone call, a chat or instant messaging session is live and each user responds to the other in real time. In contrast, discussion forums and electronic mail are forms of asynchronous communications. Some amount of time may pass before a person responds to a message. In a discussion forum, a message sits in a message queue for other people to read and respond to at any time, or until the message falls out of the queue. These two forms of communication, which are accessible to any Internet user from just about any Internet-attached system, may be the most important aspect of the Internet. They promote a new form of instant global communication and collaboration. In the case of discussion forums and e-mail, the delay in communication is beneficial-it gives people time to think about and research their responses.
There are many different e-mail systems in use on networks, mainframe systems, and public networks. The Internet's message transport standard is SMTP (Simple Mail Transfer Protocol), which is supported by mail server protocols such as POP (Post Office Protocol) and IMAP (Internet Message Access Protocol). The growth of the Internet and intranets has promoted its acceptance almost everywhere. In addition, SMTP-compatible e-mail services are integrated into browsers. As a result, almost every Web user has an SMTP mail client available for their use.
Legacy mail systems include IBM PROFS (Professional Office System) and SNADS (SNA Distributed Services), which were used in the IBM mainframe environment, and VAXmail or All-In-1 in the DEC environment. A single organization might have numerous e-mail systems that were implemented in the days when departments or workgroups maintained their own LANs. As the organization was interconnected, e-mail gateway systems were often employed to translate messages among the different systems. The X.400 Message Handling System was supposed to provide a standard for exchanging messages among a wide variety of messaging platforms, but X.400 never caught on. Today, most network administrators prefer to use a single mail standard, and that has become the Internet messaging protocols. Vendors are also integrating the standard into their proprietary systems. Because of its pervasiveness, the Internet mail standard is covered in this section.
Still, three major messaging platforms are available that offer more than just electronic mail. Lotus Domino, Microsoft Exchange, and Novell GroupWise are enterprise collaboration and groupware platforms, as discussed later.
This topic continues in "The Encyclopedia of Networking and Telecommunications" with a discussion of the following:
Electronic mail features
Email system structure, including user agents (clients), MTAs (message transfer agents, mail servers, and directory services.
POP (Post Office Protocol)
IMAP (Internet Message Access Protocol)
SMTP (Simple Mail Transfer Protocol)
MIME (Multipurpose Internet Mail Extension) and S/MIME (Secure MIME)
LDAP (Lightweight Directory Access Protocol)
MAPI (Messaging Application Programming Interface)
Internet mail system operation, step-by-step
Secure email and encryption schemes such as public-key crytography, digital signatures, PGP (Pretty Good Privacy), and S/MIME
A discussion of email systems and products including Lotus Domino, Microsoft Exchange, Novell GroupWise, and public domain systems
Vendor lists, relavent RFCs, and other reference information
Here is a partial list of vendors that provide e-mail and messaging products:
| | |
| --- | --- |
| Lotus Notes | |
| Microsoft Exchange Server | |
| Novell GroupWise | |
| Syntegra messaging solutions | |
| Fujitsu TeamWare Messaging | |
| LAN-ACES Office-Logic | |
| Software.com | |
Development Work
A number of working groups and organizations are involved in the development of electronic mail standards. The Internet Mail Consortium is an international organization that promotes electronic mail and electronic mail standards on the Internet. The IMC's Web site is a good place to find the latest information about electronic mail developments. See the related entries page.
Here is a list of IETF working groups that are developing standards associated with electronic messaging:
Detailed Revision/Update of Message Standards (drums)
This working group is reviewing the original mail RFCs and determining the applicability of each of these to the future direction of the messaging on the Internet. See http://www.ietf.org/html.charters/drums-charter.html

Message Tracking Protocol (msgtrk)
This working group is designing a diagnostic protocol for a message originator to request information about the submission, transport, and delivery of a message, regardless of its delivery status. See http://www.ietf.org/html.charters/msgtrk-charter.html.

S/MIME Mail Security (smime)
This group is working on integrating S/MIME (Secure MIME) with Internet mail, including the encapsulation of encrypted and signed objects. S/MIME is a product of RSA Security. See http://www.ietf.org/html.charters/smime-charter.html.

An Open Specification for Pretty Good Privacy (openpgp)
PGP is used for both protecting e-mail and file storage. It presents a way to digitally sign and encrypt information. This working group is integrating PGP with Internet mail. See http://www.ietf.org/html.charters/openpgp-charter.html.

MIME Encapsulation of Aggregate
HTML Documents (mhtml) The MHTML Working Group has developed standards that permit the transport of compound structured HTML Web documents via Internet mail in MIME multipart/related body parts. The idea is to support interoperability between separate HTTP-based systems and Internet mail systems, as well as being suitable for combined mail/HTTP browser systems. See http://www.ietf.org/html.charters/mhtml-charter.html.

Internet Fax (fax)
This working group will pursue a review and specification for enabling standardized messaging-based fax over the Internet. See http://www.ietf.org/html.charters/fax-charter.html.

Calendaring and Scheduling (calsch)
This working group develops standards that help calendaring and group scheduling products interoperate and work across organizational boundaries. It develops MIME content types to represent common objects needed for calendaring and group scheduling transactions, and access protocols between systems and between clients and servers. See http://www.ietf.org/html.charters/calsch-charter.html.
Copyright (c) 2001 Tom Sheldon and Big Sur Multimedia.
All rights reserved under Pan American and International copyright conventions.