Site home page
(news and notices)
Get alerts when Linktionary is updated
Book updates and addendums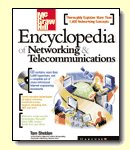 Get info about the Encyclopedia of Networking and Telecommunicatons, 3rd edition (2001)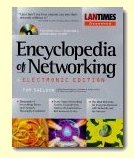 Download the electronic version of the Encyclopedia of Networking, 2nd edition (1996). It's free!
Contribute to this site
Electronic licensing info
Samba
Related Entries Web Links New/Updated Information
Note: Many topics at this site are reduced versions of the text in "The Encyclopedia of Networking and Telecommunications." Search results will not be as extensive as a search of the book's CD-ROM.
Samba is a suite of programs that provides the same resource-sharing services as Microsoft's SMB (Server Message Blocks). SMB was originally developed for Microsoft operating system environments and is used in Windows 95, Windows 98, Windows NT, and OS/2. Samba provides compatible SMB services for UNIX, NetWare, OS/2, and VMS environments. The primary UNIX platforms are SunOS and Linux, but many other UNIX versions are supported. Samba was originally created by Andrew Tridgell, but it was expanded as a community effort by its users.
Although SMB was primarily designed to work in Microsoft Windows environments, Samba has features that let users of other operating systems use it in modes they are accustomed to. For example, UNIX users can use an FTP-like interface to access shared SMB resources on other servers. Samba includes a NetBIOS name server, which provides the naming service required to browse for shared resources with user-friendly names.
Copyright (c) 2001 Tom Sheldon and Big Sur Multimedia.
All rights reserved under Pan American and International copyright conventions.