Site home page
(news and notices)
Get alerts when Linktionary is updated
Book updates and addendums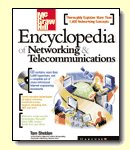 Get info about the Encyclopedia of Networking and Telecommunicatons, 3rd edition (2001)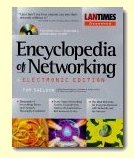 Download the electronic version of the Encyclopedia of Networking, 2nd edition (1996). It's free!
Contribute to this site
Electronic licensing info
NAS (Network Access Server)
Related Entries Web Links New/Updated Information
Note: Many topics at this site are reduced versions of the text in "The Encyclopedia of Networking and Telecommunications." Search results will not be as extensive as a search of the book's CD-ROM.
A NAS is an access gateway. Sometimes it is referred to as a RAS (remote access server) or a media gateway. At any rate, it is a gateway between an external communications network and an internal network. The usual configuration is a server that controls a bank of modems. Users dial into a modem and connect with the access server, which authenticates the users and authorizes access to an internal network. The user typically uses TCP/IP over a PPP connection to access internal resources. This same configuration is used when users dial into Internet service providers, except that the user is given access to the Internet after being authorized by the access server.
The IETF Working Group called Network Access Server Requirements (nasreq) has defined new requirements for modern network access servers with respect to AAA (authentication, authorization, accounting). It considered services such as VPNs, smart authentication methods, and roaming concerns. It developed two Internet RFCs, which provide complete descriptions of network access servers.
RFC 2881 (Network Access Server Requirements Next Generation NAS Model, July 2000)


RFC 2882 (Network Access Servers Requirements: Extended RADIUS Practices, July 2000)
Copyright (c) 2001 Tom Sheldon and Big Sur Multimedia.
All rights reserved under Pan American and International copyright conventions.