Site home page
(news and notices)
Get alerts when Linktionary is updated
Book updates and addendums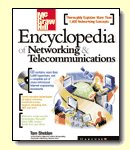 Get info about the Encyclopedia of Networking and Telecommunicatons, 3rd edition (2001)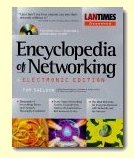 Download the electronic version of the Encyclopedia of Networking, 2nd edition (1996). It's free!
Contribute to this site
Electronic licensing info
Microsoft Windows
Related Entries Web Links New/Updated Information
Note: Many topics at this site are reduced versions of the text in "The Encyclopedia of Networking and Telecommunications." Search results will not be as extensive as a search of the book's CD-ROM.
The Microsoft Windows family of products began as a graphical user interface that ran on top of the DOS operating system. The first versions of Windows were important because of their multitasking capabilities, which allowed them to run multiple applications at the same time. Today, the operating system has grown into a full-featured operating system for desktop users and network server applications. The product lineup as of this writing is described here:
Windows CE
A "small footprint" operating system designed for specialized computing devices such as hand-held PCs, telephones, and consumer devices such as television sets.

Windows 98
At the time of this writing, this is the most pervasive desktop operating system. It is fully integrated with Internet/Web technologies and supports new multimedia hardware technologies and entertainment platforms. The user interface and desktop were altered from previous versions by integrating Web-browser-like features into the standard desktop.

Windows ME (Millennium Edition)
This is a follow-on to Windows 98 designed specifically for home users. It includes advanced digital media features, a simplified user interface, home networking, and broad support for consumer hardware and software.

Windows XP (`xperience)
With Windows XP, Microsoft continues its refinement of the user interface and features to support home users. Visual themes improve usability by stepping users through common tasks. A remote access feature lets you access your mom's computer and clean up the desktop. A significant feature is that XP is based on Windows 2000 technology.

Windows NT Workstation and Server
These two operating systems were Microsoft's high-end platforms during the latter half of the 1990s. Windows 2000, described next, is the follow-on operating system.

Windows 2000 Professional and Advanced Server
These are Microsoft's latest high-end desktop workstation and server operating system.
For more information on these systems, refer to the Web site listed on the related entries page.
Copyright (c) 2001 Tom Sheldon and Big Sur Multimedia.
All rights reserved under Pan American and International copyright conventions.