Site home page
(news and notices)
Get alerts when Linktionary is updated
Book updates and addendums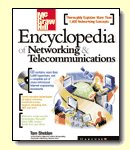 Get info about the Encyclopedia of Networking and Telecommunicatons, 3rd edition (2001)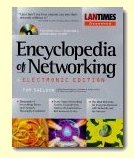 Download the electronic version of the Encyclopedia of Networking, 2nd edition (1996). It's free!
Contribute to this site
Electronic licensing info
IP over ATM
Related Entries Web Links New/Updated Information
Note: Many topics at this site are reduced versions of the text in "The Encyclopedia of Networking and Telecommunications." Search results will not be as extensive as a search of the book's CD-ROM.
This topic discusses several approaches to integrating IP and ATM networks, including using ATM networks as the underlying data link for IP networks. If you are looking for Classical IP over ATM as defined by IETF RFC 1577 , refer to "CIP (Classical IP over ATM)."
ATM has been a major influence in networking since the late 1980s. Many have claimed it to be a superior networking technology due to its speed and ability to provide QoS (quality of service). Today, other network technologies such as Gigabit Ethernet and multilayer switching provide performance benefits and ease of use over ATM. Still, ATM has been installed in many environments and its QoS capabilities support traffic engineering. Many organizations have a need to integrate ATM with their other networking technologies.
The IP over ATM technologies discussed here are generally "overlay models" that use ATM for layer 2 forwarding. In this context, ATM acts like a data link layer network that encapsulates packets and delivers them from one edge of the ATM network to the other. Therefore, the techniques described here are typically implemented in edge devices, although, in some cases, the ATM device is modified as well.
This topic continues in "The Encyclopedia of Networking and Telecommunications."
ATM connection-oriented model vesus IP packet-based models
Virtual circuit requirements and benefits when using IP over ATM
ATM as a LAN technology for IP networks
Encapsulation of packets into ATM cells
A discussion of different IP over ATM models

Overlay models with flow-driven cut-through routing

CIP (Classical IP over ATM)
LANE (LAN Emulation)
MPOA (Multiprotocol over ATM)

Multilayer switching

Traffic-driven approaches such as Toshiba's CSR (Cell Switch Router) and Ipsilon's IP Switching (Ipsilon is now part of Nokia)
Control-driven approaches, such as IP Navigator (developed by Cascade, which was bought by Ascend, which, in turn, was acquired by Lucent), IBM's ARIS (Aggregate Routed-based IP Switching), Cisco's Tag Switching, and most recently, MPLS (Multiprotocol Label Switching)
Copyright (c) 2001 Tom Sheldon and Big Sur Multimedia.
All rights reserved under Pan American and International copyright conventions.