Site home page
(news and notices)
Get alerts when Linktionary is updated
Book updates and addendums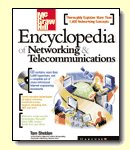 Get info about the Encyclopedia of Networking and Telecommunicatons, 3rd edition (2001)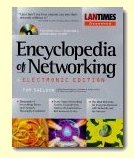 Download the electronic version of the Encyclopedia of Networking, 2nd edition (1996). It's free!
Contribute to this site
Electronic licensing info
Internet2
Related Entries Web Links New/Updated Information
Note: Many topics at this site are reduced versions of the text in "The Encyclopedia of Networking and Telecommunications." Search results will not be as extensive as a search of the book's CD-ROM.
Internet2 is a testbed for developing advanced Internet technologies and services. It is a collaborative project sponsored by UCAID (University Corporation for Advanced Internet Development), a consortium of over 180 U.S. universities that are developing advanced Internet technologies and applications to support research and education.
The primary goal of Internet2 is to create a leading-edge research network that supports the deployment of new and revolutionary applications, and then deploy the knowledge and the technologies to the broader Internet community. Internet2 members are working in these five areas:
Advanced applications
This area includes development of advanced collaborative applications including tele-immersion (collaborate at remote sites in real time using shared simulations-like being in the same room), virtual laboratories (an environment that enables people to work together on a common set of projects), digital multimedia libraries, and learningware (distributed instructions).

Middleware
The layer of software between applications and networks is often called middleware. Internet2 members are working to deploy core middleware services such as identification, authentication, authorization, directories, and security as interoperable standards, rather than relying on individual applications to provide these services. RFC 2768 (Network Policy and Services: A Report of a Workshop on Middleware, February 2000) identifies the types of middleware of concern to Internet2.

New networking capabilities
This area covers the deployment of testbeds for new IP network services that support QoS, network traffic engineering, and high performance.

Advanced network infrastructure
This area covers advanced backbone networks, including Abilene, an advanced backbone that connects regional network aggregation points, called gigaPoPs, that support Internet2. Other advanced networks, including the Canadian CA*net3, are described at the Web site.

Partnerships and alliances
This area promotes partnerships among corporations, government, and international organizations.
Copyright (c) 2001 Tom Sheldon and Big Sur Multimedia.
All rights reserved under Pan American and International copyright conventions.