Site home page
(news and notices)
Get alerts when Linktionary is updated
Book updates and addendums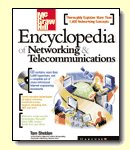 Get info about the Encyclopedia of Networking and Telecommunicatons, 3rd edition (2001)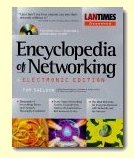 Download the electronic version of the Encyclopedia of Networking, 2nd edition (1996). It's free!
Contribute to this site
Electronic licensing info
Fibre Channel
Related Entries Web Links New/Updated Information
Note: Many topics at this site are reduced versions of the text in "The Encyclopedia of Networking and Telecommunications." Search results will not be as extensive as a search of the book's CD-ROM.
Fibre Channel is a gigabit interconnect technology for data center and SANs (Storage Area Networks). It is designed primarily to interconnect peripherals, mass storage systems, imaging and archiving systems, mainframes, supercomputers, engineering workstations, and other high-speed devices. Fibre Channel has features of a network, but it is not a network in the traditional sense. Instead, it is a high-speed switching system that uses fiber-optic cable to interconnect computing devices in a relatively local environment, such as a laboratory or a campus environment, as shown in Figure F-7.
ANCHOR HERE: Figure 7 (see book)
This topic continues in "The Encyclopedia of Networking and Telecommunications" with a discussion of the following:
Fibre Channel point-to-point links, scalable-bandwidth switched circuits, and arbitrated loops (shared-bandwidth loop circuits)
Fibre Channel use in SAN (storage area network)
Where Fibre Channel fits in (comparison to Ethernet, ATM, SCSCI, and switching technologies)
Fibre Channel Arbitrated Loop (FC-AL)
SCSI-FCP (Small Computer System Interface-Fibre Channel Protocol)
FICON (Fibre Connection), an IBM mainframe connectivity product for storage devices
FC-IP (Fibre Channel IP)
FSPF (Fabric Shortest Path First) inter-switch routing protocol
RFC 2625 (IP and ARP over Fibre Channel, June 1999) specifies how IP and ARP are encapsulated over Fibre Channel and describes a mechanism for IP address resolution.
The IETF IP Storage (ips) Working Group is developing protocols for encapsulating SCSI and Fibre Channel in an IP-based transport or transports. The Working Group's Web site is at http://www.ietf.org/html.charters/ips-charter.html
Emerging technologies that compete with Fibre Channel are covered in "Switch Fabrics and Bus Design."
Copyright (c) 2001 Tom Sheldon and Big Sur Multimedia.
All rights reserved under Pan American and International copyright conventions.