Site home page
(news and notices)
Get alerts when Linktionary is updated
Book updates and addendums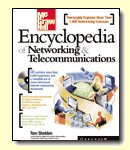 Get info about the Encyclopedia of Networking and Telecommunicatons, 3rd edition (2001)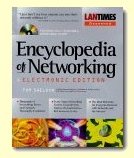 Download the electronic version of the Encyclopedia of Networking, 2nd edition (1996). It's free!
Contribute to this site
Electronic licensing info
SANs (Storage Area Networks)
Related Entries Web Links New/Updated Information
Note: Many topics at this site are reduced versions of the text in "The Encyclopedia of Networking and Telecommunications." Search results will not be as extensive as a search of the book's CD-ROM.
SANs are dedicated networks that provide access to an array of storage devices such as RAID arrays, optical disks, and tape backups. One way to think of a SAN is as a high-speed network within a data center. In contrast, LANs extend outward from the data center. A typical SAN consists of a Fibre Channel subnetwork connected to the enterprise network, as illustrated in Figure S-1. SANs are a radical shift from the traditional server-attached storage because storage is offloaded from servers, freeing up server resources to handle data processing and other tasks.
This topic continues in "The Encyclopedia of Networking and Telecommunications" with a discussion of the following:
SAN networking concepts and advantages
Clustered servers in SAN environments
Comparison to NAS (network attached storage)
SANs and Fibre Channel
SANs and InfiniBand
SAN-enabling technologies

VI Architecture
DAFS (Direct Access File System)
IP storage technologies
SANs over IP
SoIP (Storage over IP)
FSPF (Fabric Shortest Path First)
SRM (Storage Resource Management)
Associations, Initiatives, Forums, and Coalitions
The following organizations promote SANs, storage products, and interconnect technologies. Getting all the pieces of SANs to work together in an interoperable way is the goal of these groups:
SNIA (Storage Networking Industry Association)
SNIA promotes storage network systems (a SAN by another name). The association is a central point of contact for the SAN industry and is involved in the development of SAN standards. See http://www.snia.org.

Fibre Channel Industry Association
This organization promotes Fibre Channel. Its Web site has a technology section that fully defines how Fibre Channel is used in the SAN environment. See http://www.fibrechannel.org/.

FibreAlliance
The FibreAlliance was formed by a group of storage companies, including EMC Corporation, with the goal of ensuring Fibre Channel SAN management standards, enabling heterogeneous interoperability, and developing methods for managing large-scale enterprise Fibre Channel SANs. See http://www.fiberalliance.com/.

Jiro
Jiro is a Sun Microsystems technology that provides a set of Java and Jini application development interfaces for creating intelligent management services that deploy across network devices, software applications, systems, and storage. Jiro technology provides a set of base management services and the architecture required to manage a SAN. Jiro was formerly called Project StoreX.
Copyright (c) 2001 Tom Sheldon and Big Sur Multimedia.
All rights reserved under Pan American and International copyright conventions.