Site home page
(news and notices)
Get alerts when Linktionary is updated
Book updates and addendums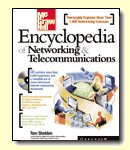 Get info about the Encyclopedia of Networking and Telecommunicatons, 3rd edition (2001)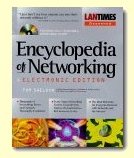 Download the electronic version of the Encyclopedia of Networking, 2nd edition (1996). It's free!
Contribute to this site
Electronic licensing info
Portal
Related Entries Web Links New/Updated Information
Note: Many topics at this site are reduced versions of the text in "The Encyclopedia of Networking and Telecommunications." Search results will not be as extensive as a search of the book's CD-ROM.
If you've accessed the Web, you've no doubt been to a portal, so it seems odd to define it here. The simplest definition of a portal is a Web site with a lot of hyperlinks to other places. But portals may also host their own content such as news, sports, and weather, as do portal sites such as AltaVista, America Online, MSN (Microsoft Network), Yahoo!, or MSNBC. A portal is a place to hang out on the Web and jump off to other locations. Portals have been called "on-ramps" to the rest of the Web. One of the best examples of a portal front page is at http://www.yahoo.com. It's simple and to the point, and helps people get to where they want to go in a hurry. This interface has remained nearly unchanged for years.
This topic continues in "The Encyclopedia of Networking and Telecommunications" with a discussion of the following:
Hubs: an advanced type of portal
Intranet portals and intranet hubs
EIPs (enterprise information portals)
Push and pull
Types of portals, including

Enterprise information portals
Enterprise collaborative portals
Enterprise expertise portals
Enterprise knowledge portals
Copyright (c) 2001 Tom Sheldon and Big Sur Multimedia.
All rights reserved under Pan American and International copyright conventions.