Site home page
(news and notices)
Get alerts when Linktionary is updated
Book updates and addendums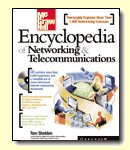 Get info about the Encyclopedia of Networking and Telecommunicatons, 3rd edition (2001)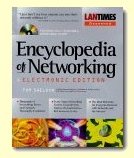 Download the electronic version of the Encyclopedia of Networking, 2nd edition (1996). It's free!
Contribute to this site
Electronic licensing info
Edge Devices
Related Entries Web Links New/Updated Information
Note: Many topics at this site are reduced versions of the text in "The Encyclopedia of Networking and Telecommunications." Search results will not be as extensive as a search of the book's CD-ROM.
Edge devices are routers, switches, routing switches, IADs (integrated access devices), multiplexers, and a variety of MAN/WAN access devices that provide entry points into enterprise or carrier/service provider core networks. On an enterprise network, edge devices may connect Ethernet and token ring LANs to an ATM backbone, where the ATM network provides a bridge between the edge networks. This configuration is shown on the left in Figure E-1. Edge devices also provide connections into carrier and service provider networks, as shown on the right in Figure E-1. Note that the "end systems" are on the "outside" of the edge device.
Figure E-1: See book
In general, edge devices provide access to faster, more efficient backbone and core networks. The trend is to make the edge smart and the core "dumb and fast." Consequently, core networks are being designed with switches rather than routers. The topics "ATM" and "MPLS" provide examples of edge switches. Figure A-17 in the book illustrates a core of ATM switches surrounded by Gigabit Ethernet edge switches. While a core of all routers may be easy to manage (routing protocols self-configure routes), they are not scalable and do not support traffic engineering and other techniques that support QoS. See "IP over ATM."
Edge devices may translate between one type of network protocol and another. For example, ATM networks send data in cells and use connection-oriented virtual circuits. An IP network is packet oriented; so if ATM is used as a core, packets must be encapsulated in cells and the destination address must be converted to a virtual circuit identifier. Edge devices are responsible for handling this conversion. There is an ingress (input) and egress (output) edge device for all connections. A number of techniques have been devised to move IP packets over switched network topologies. See "LANE (LAN Emulation)," "MPOA (Multiprotocol over ATM)," "IP over ATM," "Label Switching," "Multilayer Switching," and "MPLS (Multiprotocol Label Switching)."
An edge switch for a WAN may be a multiservice unit, meaning that it supports a wide variety of communication technologies, including voice and IP over dial-up connections, ISDN, T1 circuits, frame relay, and ATM. An edge device may provide enhanced services, such as VPN support, voice over IP, and QoS services. See "IADs (Integrated Access Devices)."
Copyright (c) 2001 Tom Sheldon and Big Sur Multimedia.
All rights reserved under Pan American and International copyright conventions.